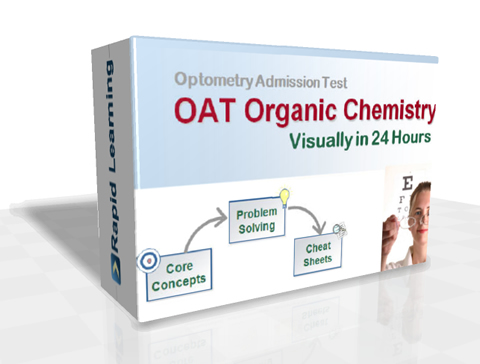 The OAT Organic Chemistry Rapid Learning Series includes:
24 Core Concept Tutorials (Flash Movies)
Concept maps, easy introduction to the topic, concept illustration with annotations and animations, sample problems explained with step-wise strategies and topic summary.

24 Problem-Solving Drills (Flash Games)
Feedback based Quizzes, concept-based problems, summary reviews on all problems and scoring system to track performance.

24 Super Review Cheat Sheets (PDF Printables)
One cheat sheet per topic, key concepts in a single-sheet, at-a-glance review of each topic and both printable and laminatible Ideal for exam prep quick review.
24 Quick-Read Chapter Mini-Books (PDF Printables)
24 Slide-by-slide printable eBooks for each chapter, as the study companion of the visual tutorials.
24 Learning-on-the-Go AudioBooks (MP3)
24 mp3 audio tutorials for 24 chapters, perfect supplement to the visual tutorials.
RL644: OAT Organic Chemistry Visually in 24 Hours
This visual course provides the comprehensive coverage of the required topics by the Optometry Admission Test.
Compare the 38-page OAT Official Program Guide from ASCO with the Rapid Learning's topics below, which is in one-to-one match with the official topics. Study the most relevant content and study them powerfully with Rapid Learning.
Core Unit #1 – OAT Organic Chemistry: The Basics
Tutorial 01: The OAT Guide to Organic Chemistry
Tutorial 02: General Chemistry Review
Core Unit #2 – Nomenclature
Tutorial 03: Organic Nomenclature I
Tutorial 04: Organic Nomenclature II
Tutorial 05: Organic Structures
Tutorial 06: Functional Groups
Core Unit #3 – Stereochemistry
Tutorial 07: Stereochemistry
Tutorial 08: Conformational Analysis
Core Unit #4 – Hydrocarbons and Reactions
Tutorial 09: Saturated Hydrocarbons
Tutorial 10: Unsaturated Hydrocarbons
Core Unit #5 – Aromatics
Tutorial 11: Aromatic compounds and Aromaticity
Core Unit #6 – Functional Groups and Reactions
Tutorial 12: Alcohols and Ethers
Tutorial 13: Aldehydes and Ketones
Tutorial 14: Carboxylic Acids
Tutorial 15: Acid Derivatives
Tutorial 16: Keto Acids and Esters
Tutorial 17: Amines
Core Unit #7 – Organic Analysis and Separation
Tutorial 18: Infrared and UV Spectroscopy
Tutorial 19: NMR and Mass Spectrometry
Tutorial 20: Separation and Purification

Core Unit #8 - Individual Reactions, Multistep Reactions and Mechanisms
Tutorial 21: Organic Reactions
Tutorial 22: Organic Synthesis
Tutorial 23: Organic Mechanisms
Core Unit #9 - Acids and Bases
Tutorial 24: Acid-Base Chemistry
Disclaimer: OAT is a registered trademark of the Association of Schools and Colleges of Optometry, which does not endorse, nor is affiliated in any way with the Rapid Learning courses.