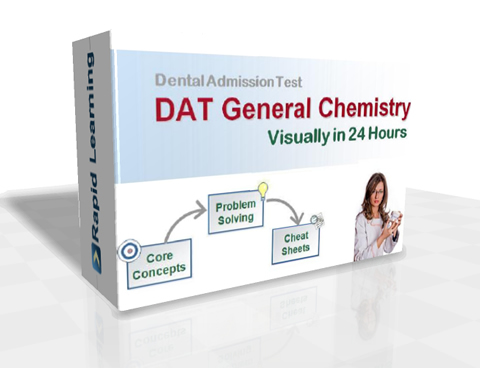 The DAT General Chemistry Rapid Learning Series includes:
24 Core Concept Tutorials (Flash Movies)
Concept maps, easy introduction to the topic, concept illustration with annotations and animations, sample problems explained with step-wise strategies and topic summary.

24 Problem-Solving Drills (Flash Games)
Feedback based Quizzes, concept-based problems, summary reviews on all problems and scoring system to track performance.

24 Super Review Cheat Sheets (PDF Printables)
One cheat sheet per topic, key concepts in a single-sheet, at-a-glance review of each topic and both printable and laminatible Ideal for exam prep quick review.
24 Quick-Read Chapter Mini-Books (PDF Printables)
24 Slide-by-slide printable eBooks for each chapter, as the study companion of the visual tutorials.
24 Learning-on-the-Go AudioBooks (MP3)
24 mp3 audio tutorials for 24 chapters, perfect supplement to the visual tutorials.
RL633: DAT General Chemistry Visually in 24 Hours
This visual course provides the comprehensive coverage of the required topics by the Dental Admission Test. For an in-depth look into this course, we offer a 56-page eBook (free) - the DAT General Chemistry Course GuideBook. Go ahead to download and print it out for topical overview, key concepts and chapter review on DAT general chemistry.
To shop and compare our course with the official topical specifications, download and print the DAT Official Program Guide from ADA.org to familiarize the content. Compare with the Rapid Learning's course topics below, which is in one-to-one match with the official topics. Study the most relevant content and study them powerfully with Rapid Learning.
Core Unit #1 – The Essentials of DAT General Chemistry
Tutorial 01: Introduction to DAT General Chemistry
Tutorial 02: Basic Skills in Chemistry
Tutorial 03: Atoms and Molecules
Tutorial 04: Writing Molecular Formulas
Tutorial 05: Naming Chemical Compounds
Core Unit #2 – Stoichiometry
Tutorial 06: Chemical Reactions
Tutorial 07: Balancing Equations
Tutorial 08: The Mole
Tutorial 09: Stoichiometric Calculations
Core Unit #3 – The Gas, Liquid and Solid Phases
Tutorial 10: The Gases
Tutorial 11: The Liquid and Solid
Core Unit #4 – The Solution and Acid-Base Chemistry
Tutorial 12: Solutions
Tutorial 13: Acids and Bases
Core Unit #5 – Energetics of Chemical Reactions
Tutorial 14: Chemical Equilibrium
Tutorial 15: Thermodynamics and Thermochemistry
Tutorial 16: Chemical Kinetics
Core Unit #6 – Oxidation-Reduction Reactions
Tutorial 17: Electrochemistry and Redox Reactions
Core Unit #7 – Atomic and Molecular Structures
Tutorial 18: Electronic Structure
Tutorial 19: Chemical Bonding
Tutorial 20: Lewis Structure and Molecular Geometry

Core Unit #8 - Periodic Properties
Tutorial 21: The Periodic Table of Elements
Tutorial 22: The Properties of the Periodic Table
Core Unit #9 - Nuclear Chemistry
Tutorial 23: Nuclear Reactions
Core Unit #10 - Experiments
Tutorial 24: Chemical Laboratory
Disclaimer: DAT is a registered trademark of the American Dental Association which does not endorse, nor is affiliated in any way with the Rapid Learning courses.