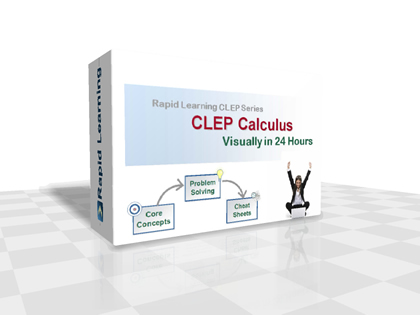 The CLEP Calculus Rapid Learning Series includes:
24 Core Concept Tutorials (Flash Movies)
Concept maps, easy introduction to the topic, concept illustration with annotations and animations, sample problems explained with step-wise strategies and topic summary.

24 Problem-Solving Drills (Flash Games)
Feedback based Quizzes, concept-based problems, summary reviews on all problems and scoring system to track performance.

24 Super Review Cheat Sheets (PDF Printables)
One cheat sheet per topic, key concepts in a single-sheet, at-a-glance review of each topic and both printable and laminatible Ideal for exam prep quick review.
24 Quick-Read Chapter Mini-Books (PDF Printables)
24 Slide-by-slide printable eBooks for each chapter, as the study companion of the visual tutorials.
24 Learning-on-the-Go AudioBooks (MP3)
24 mp3 audio tutorials for 24 chapters, perfect supplement to the visual tutorials.
RL514: CLEP Calculus Visually in 24 Hours
CLEP is the fast track to get college credit and Rapid Learning is the fast track to prepare for CLEP. The required topics are overwhelming to study by self reading in absence of classroom instruction. Rapid Learning overcomes this learning gap by offering visual lectures developed and narrated by college professors. Let our experts guide you through your study by following our signature Rapid Learning System - Visual Tutorials + Problem Drills + Cheat Sheets.
This visual course provides the comprehensive coverage of the required topics by the CLEP, with one-to-one match with the official required topics. Study the most relevant content and study them powerfully with Rapid Learning.
Core Unit #1 – The CLEP Foundation
Tutorial 01: The Guide to the CLEP Exam
Tutorial 02: Precalculus Review for CLEP Calculus
Core Unit #2 – Functions and their Properties
Tutorial 03: Functions and Analysis of Graphs
Tutorial 04: Exponential Functions and Equations
Tutorial 05: Inverse Functions and Logarithms
Core Unit #3 – Limits and Continuity
Tutorial 06: The Concepts of Limits and Vertical Asymptotes
Tutorial 07: Trigonometric Limits and Continuity
Tutorial 08: Limits Involving Infinity
Tutorial 09: Rates of Changes
Core Unit #4 – The Differential Calculus
Tutorial 10: The Tangent and Concept of Derivative
Tutorial 11: Differentiability and Rules of Differentiation
Tutorial 12: The Chain Rule and High Order Derivatives
Tutorial 13: Implicit Differentiation and Related Rates
Tutorial 14: Applications of Differentiation
Tutorial 15: More Applications of Differentiation
Core Unit #5 – The Integral Calculus
Tutorial 16: Riemann Sums and Definite Integrals
Tutorial 17: The Fundamental Theorem of Calculus
Tutorial 18: Antidifferentiation and Techniques of Integration
Tutorial 19: Numerical Integration by Rectangles and Trapezoids
Tutorial 20: Applications of Integration - Average Value and Area
Tutorial 21: Differential Equations and Analytical Methods
Core Unit #6 – CLEP Calculus Skills
Tutorial 22: Problem Solving in CLEP Calculus
Tutorial 23: Graphing Calculator in Calculus
Tutorial 24: CLEP Calculus Exam Guide
Master CLEP Calculus the rich-media way, get started now:
Disclaimer: CLEP is a registered trademark of the College Board, which does not endorse, nor is affiliated in any way with the Rapid Learning courses.