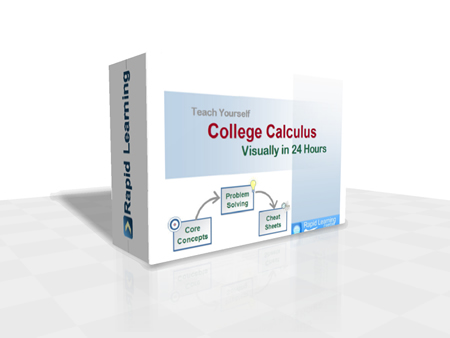 This college calculus rapid learning series is designed for college students who are required to take a single calculus course, typically for non-math/engineering majors.
This comprehensive course includes precalculus review, limits, derivatives and integrals, with the focus on conceptual understanding and problem solving. The visual tutorials with expert narration provide the non-intimidating introduction to the often-challenging topics, making calculus learning fun and easy.
24 Core Concept Tutorials (Flash Movies)
24x visual tutorials for 24 chapters, with concept map, concept illustration, step-wise problem solving and topical summary, narrated by college calculus professors.

24 Problem-Solving Drills (Flash Games)
24x feedback based Quizzes, concept-based problems, summary reviews on all problems and scoring system to track performance.

24 Super Review Cheat Sheets (PDF Printables)
One cheat sheet per topic, key concepts in a single-sheet, at-a-glance review of each topic and both printable and laminatible Ideal for exam prep quick review.
Pre-requisites for Calculus
: (1)
Elementary Algebra - RL409
(2)
Intermediate Algebra - RL407
(3)
Pre-Calculus - RL403
.
---
College Calculus Rapid Learning Series
This 24-chapter series provides comprehensive coverage of traditional college calculus topics for any students who are taking business calculus and calculus for life science, social science and other non-math majors.
Core Unit #1 – The Foundation
Tutorial 01: Introduction to Calculus
Tutorial 02: Precalculus Review
Core Unit #2 – Functions and Graphs
Tutorial 03: Functions and Graphs
Tutorial 04: Exponential Functions
Tutorial 05: Inverse Functions and Logarithms
Core Unit #3 – Limits and Continuity
Tutorial 06: Limits
Tutorial 07: Trigonometric Limits and Continuity
Tutorial 08: Limits Involving Infinity
Tutorial 09: Rates of Changes
Core Unit #4 – Derivatives
Tutorial 10: The Derivative and the Tangent Line
Tutorial 11: Differentiability and Rules of Differentiation
Tutorial 12: The Chain Rule and High Derivatives
Tutorial 13: Implicit Differentiation and Related Rates
Tutorial 14: Applications of Differentiation - Part 1
Tutorial 15: Applications of Differentiation - Part 2
Core Unit #5 – Integrals
Tutorial 16: Riemann Sums and Definite Integrals
Tutorial 17: The Fundamental Theorem of Calculus
Tutorial 18: Antidifferentiation and Integration by Substitution
Tutorial 19: Numerical Integration
Tutorial 20: Applications of Integration
Tutorial 21: Differential Equations and Mathematical Modeling
Core Unit #6 – Critical Skills
Tutorial 22: Problem Solving in Calculus
Tutorial 23: Graphing Utilities in Calculus
Tutorial 24: Calculus Exam Guide
Master Calculus the rich-media way, get started now: