Home
»
Biology
» USMLE Step 1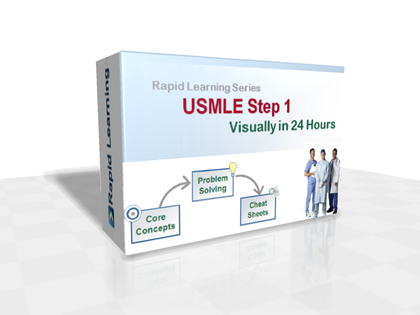 The USMLE Step 1 Rapid Learning Series includes three core modules (#1-3) and two supplemental modules (#4-5). Standard Edition (#1-3) is $25/month or $99/year and Lite Edition is $48/year.
24 Rich-Media Tutorials (Standard Edition)
Core concept tutorials with on-screen visualization and expert narration via our signature Rapid Learning System.

24 Problem-Solving Quizzes (Standard Edition)
Feedback-based problems with a scoring system to track performance and complete solution to review concepts.

24 Super-Review Cheat-sheets (Standard Edition)
One cheat sheet per chapter and all key concepts in an at-a-glance single sheet, both printable and laminable, ideal for exam prep and quick review.
24 Printable eBooks (Lite Edition)
One eBook per chapter, an easy-to-read print version of the tutorial video.
24 MP3 AudioBooks (Lite Edition)
One AudioBook per chapter for learning-on-the-go on any MP3 player or smart phone.
RL651 - USMLE Step 1 Visually in 24 Hours
Course Description: This bootcamp series is designed for anyone who is preparing for the Boards. Not self-learned, you will be taught each and every required USMLE topic by the experts, visually and rapidly. This course is constructed the same way required by the USMLE - an integrated approach with general principles and human organ systems. The first part of this course will cover the traditionally defined medical sciences in embryology, human development and aging, behavioral sciences and patient treatment, biostatistics, biochemistry, molecular and cell biology, genetics, pathology, microbiology, histology and pharmacology. The second part of the course will study the anatomy and physiology of human organs in the topical areas of the cardiovascular system, endocrine system, GI system, hematology, neurology, skin and musculoskeletal systems, renal system, reproductive system, and respiratory system, with a focus on normal and abnormal processes along with the therapeutics. The multisystem processes are also discussed with nutrition and environments.
This rich-media bootcamp course is specifically designed for immersion study with intensity, one hour per chapter with the total of 24 chapters. Study the content on-screen on this on-screen exam (CBT). Instead of reading the prep books or static texts yourself slowly, let our USMLE experts teach you visually and rapidly. For chapter-by-chapter contents of this course, see the USMLE Step 1 Course Guidebook (an 86-page eBook in downloadable PDF).
For Whom: This Rapid Learning course is for US/Canada medical students who have completed the first two years of medical school and graduates of international medical schools.
Pre-requisite: Completion of first- and second-year traditional medical school courses.

Core Unit 1 – Introduction to the USMLE
Tutorial 01: Introduction to the USMLE Step 1
Core Unit 2 – Human Development and Behavior
Tutorial 02: Embryology
Tutorial 03: Human Development and Aging
Tutorial 04: Behavioral Science and Patient Treatment
Tutorial 05: Psychiatry
Tutorial 06: Biostatistics
Core Unit 3 – Biochemistry and Biology
Tutorial 07: Biochemistry
Tutorial 08: Cell Biology
Tutorial 09: Genetics
Tutorial 10: Microbiology
Tutorial 11: Immunology
Core Unit 4 – Pathology and Pharmacology
Tutorial 12: Pathology and Oncology
Tutorial 13: Histology
Tutorial 14: Pharmacology
Core Unit 5 – Human Organ Systems
Tutorial 15: The Cardiovascular System
Tutorial 16: The Endocrine System
Tutorial 17: The Gastrointestinal System
Tutorial 18: Hematology
Tutorial 19: Neurology
Tutorial 20: The Skin and Musculoskeletal Systems
Tutorial 21: The Renal System
Tutorial 22: The Reproductive System
Tutorial 23: The Respiratory System
Tutorial 24: Multisystem Processes